Oklahoma man to spend life in prison after trying to marry, flee country with girl he 'groomed': Authorities
An Oklahoma man will spend the rest of his life behind bars after being convicted of grooming a teenage girl.
Alexander Sweet, 28, was sentenced to life in prison on Wednesday after being found guilty of coercion and enticement of a minor, four counts of production of child pornography, receipt of child pornography, and possession of child pornography, Fox 25 Oklahoma reported.
"Alexander Sweet targeted and groomed a vulnerable teenager struggling with the loss of two loved ones and a difficult childhood," U.S. Attorney Clinton Johnson said in a statement.
"She showed tremendous courage when she faced him in a federal courtroom. This predator thought he was above the law but has now been convicted and sits behind bars where he can no longer victimize another child."
MASTURBATING BANDIT IN TEXAS WHO BROKE WOMAN'S LEG IN VIOLENT CHASE DODGES JAIL TIME
The Department of Justice explained during the hearing that years of abuse from Sweet left the victim with psychological scars causing her to struggle trusting others or even feel safe going outside.
Authorities say Sweet coerced the teenager into sending him sexually explicit photos and even tried to apply to marry the girl when he discovered he was being investigated. 
DEM STATE SENATOR BLASTED AS A 'GROOMER,' 'DEPRAVED' FOR BOASTING SUPPORT OF DRAG QUEEN EVENT FOR MINORS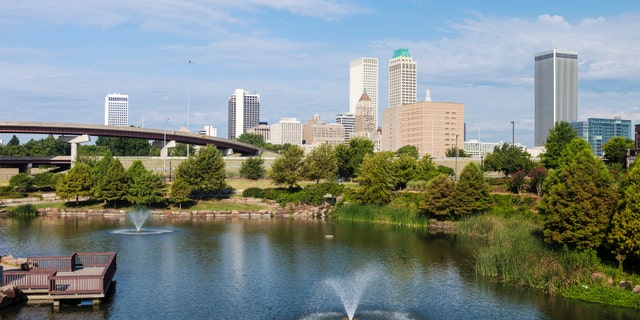 "The victim testified that Sweet incorrectly believed that if the two were married, she could not testify against him," the Justice Department said in a press release. "The victim's guardian contacted the courthouse and advised them that she did not provide consent. Sweet then took the minor to Arkansas to marry her without the guardian's consent."
"At that time, agents also learned that Sweet planned to leave the country with the minor. Sweet was arrested as he was leaving Tulsa driving a car with 'Just Married' written across the back window. The victim was also in the vehicle, and her hair had been bleached. Inside the vehicle, agents found "doll clothing," multiple electronic devices, over $1,000 in cash, United States passport applications for both Sweet and the minor victim, and a Polish citizenship application for Sweet. During a search of relevant accounts, authorities discovered multiple videos of Sweet engaged in sexual acts with the victim."
CLICK HERE TO GET THE FOX NEWS APP
During the course of the relationship, Sweet is said to have regularly provided the girl with alcohol and drugs and it is believed that Sweet also groomed other victims.
"There is nothing more disgraceful than a person who intentionally exploits a child's vulnerabilities to ingratiate themselves and manipulate their decisions," Edward Gray, FBI Special Agent in Charge of the Oklahoma City Field Office, said about the crime. "The FBI is, and will continue to be, determined in its efforts to ensure people like Mr. Sweet do not move forward with impunity."