'We create changemakers': the new UK college dedicated to climate crisis | Climate crisis
The lecture theatre was once a cowshed, the study centre is an old farmhouse living room and the classrooms are mostly outdoors: welcome to the newest higher educational college in Britain.
The former farm that is Black Mountains College campus is a core part of an insurgent institution that is the first entirely dedicated to adapting to the climate emergency.
The college is this year offering a radical new degree course designed to prepare students for a career in times of climate breakdown, and build a generation with the innovative skills and ideas required to tackle the crisis.
The first students for its BA in sustainable futures: arts, ecology and systems change will arrive at the rural campus in September to take the three-year cross-disciplinary course, which features the latest climate science, neuroscience, environmental history and critical thinking, with Amitav Ghosh's The Nutmeg's Curse a key text.
"The idea of the degree is we create changemakers who become catalysts in organisations," said Ben Rawlence, a writer and thinker who founded the college with a fellow writer, Owen Sheers, three years ago. "Every organisation is going to be desperate to hire climate-literate people. The demand for it is going to explode."
There is a growing desire for climate-literate studies from students and young people, too, with the University of Barcelona recently bowing to student activists' demand to introduce a mandatory course on the climate crisis for all from 2024.
"We also want to disrupt the UK education system," said Rawlence. "What is the role of university at a time of planetary emergency? Surely it's public education, beyond simply teaching people who pay you fees. We're not being honest with young people if we're not teaching the context in which their careers and skills will be applied.
"Given that higher education is pretty unfit for purpose, especially in the context of climate change, why don't we have a new college that offers an alternative with a course dedicated to climate adaptation? This is not just a scientific problem – it's a problem of consciousness and values and supply chains and a way of looking at the world."
Black Mountains College, a charity, is based on a 120-acre farm outside Talgarth in the Brecon Beacons. It provides more teaching and short courses in Hay-on-Wye, Brecon and nearby towns.
Since its inception in 2019, the college, which is run by four full-time staff and 12 part-time tutors, has been operating on a shoestring with startup funding from the national lottery community fund (Wales) and Brecon Beacons national park's sustainable development fund. The college has also raised £250,000 from private individuals.
"We've been the beneficiary of an awful lot of goodwill and enthusiasm and students who have been patient about the facilities growing around them," said Rawlence. "We have all been learning."
As well as its new degree course, which is validated by Cardiff Metropolitan University, the college is providing free one-year NVQ level 2 courses in regenerative horticulture, and coppicing and greenwood trades, with both courses providing practical, eco-friendly skills for adaptation to the climate crisis.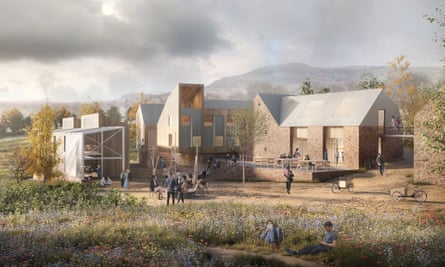 The farm campus is a key part of learning, with experimental growing plots trialling regenerative farming techniques.
The NVQs also include "core skills" such as climate science and empathy, with neuroscience informing innovative educational techniques that emphasise outdoor and multisensory learning, utilising creative practices such as painting and dance to enhance learning.
And without much publicity, the college has already received CVs from more than 100 academics keen to join its teaching staff. Rawlence said: "That speaks volumes about the state of higher education, how teachers are treated and the lack of opportunity for empowering young people, which I think is what university lecturers want to be doing. This very much represents what they think teaching should be about."
Priya Doshi, who paused her career as a Spanish and French teacher to take the forestry NVQ, is carving plum wood in the former cowshed. "I've always dreamed about doing something that's more in touch with nature and learning practical skills. It's amazing what they've done here. It's changed my life. I feel so grateful," she said. "We discuss climate change in college, which is really great – discussing how to live positively, because it is quite a stressful time."
Another student, Lewis Williams, quit his job as a director of a design studio to take the one-year course. His office looked over a Welsh castle but he found he was so busy with emails he never glanced at it. "I realised I needed to be outside doing something different," he said. "The idea of the college is amazing – somewhere between a forest school and a weekend workshop. Everything you learn is applicable – you can take it away with you. This is experience and knowledge and passion, rather than memorising things from a book and doing a test at the end of it."
Williams is already selling woodwork he makes at college. "The college is very supportive. They help teach business skills alongside big ideas. There are so many opportunities."
Nathan John, who lives in student accommodation in the former farmhouse, studied English literature at Swansea before taking the college's NVQ in horticulture. "I wanted to do something that didn't make me feel guilty – it's a step in a movement towards living in a more ethical fashion in relation to climate change," he said.
Jonny Davies, from Sussex, worked as a forest school leader before moving to study at the college. "Young kids in schools are being educated for an imaginary world that doesn't exist now, let alone when they grow up," he said. "We don't know how to talk about what's going on [with the climate crisis] or how to educate for it. Some universities are divesting of fossil fuel investments but we've got to think about everything. At least when you're setting up a new university you can set it off in the right direction."