'Remember me': Ella's law would be fitting legacy after London air pollution death, says mother | Air pollution
"One of Ella's dying wishes was that her siblings, who were really young, wouldn't forget her and she also didn't want her friends to forget her, obviously. She said to me: "'Oh Mum. I hope they will remember me," said Rosamund Kissi-Debrah recently. "I think Ella would like the fact that when you show her picture now, or you mention her name, most people know who she is."
Ella's fame is tragic: she died, aged nine, after an acute asthma attack in south London on 15 February 2013. She had had more than 25 emergency hospital admissions in the previous three years. In 2020, a landmark coroner's report made Ella the first person in the world to have air pollution cited as a cause of death.
In the 10 years since she lost her daughter, Kissi-Debrah has become a compelling advocate for cleaner air. She is driving the proposed "Ella's law" in the UK parliament and is a World Health Organization advocate, while also keeping the memory of Ella as a lively, smart and musical girl alive. Kissi-Debrah was made CBE in the New Year's honours list.
"Nothing ever makes up for Ella's death," Kissi-Debrah said in an interview. "But I can't give up because I have two children. I have to believe things are going to get better. That's why we hope to hold politicians to account. I really hope we can mobilise people for [the 10th anniversary of Ella's death]. A society is judged by how it treats its most vulnerable."
It will be tough occasion, she says: "For anyone who's lost a child, anniversaries are horrible. They tell you it will be OK after the first anniversary – it's a lie." But, she says, she keeps going: "You have your good days and bad days. And that's what you have to do – run with your good days. I worry more for my children – I think their whole life has been blighted by this. They do their best. But it must be quite a weight for them to carry."
Kissi-Debrah has become both passionate and knowledgeable: "The number of children who still die from asthma has not changed since Ella's death – can you believe that? Every year in London between eight and 12 children die, and a quarter of a million children in London have asthma."
"I can't think of anything air pollution hasn't been linked to," she says. "We have miscarriages, stillbirths, low sperm count – men be worried – autoimmune diseases, cancers."
The anniversary on Wednesday will be marked by an event on London's South Bank, with music and breathing-themed artworks projected on the Rambert building. Ella's sister and brother will perform at the event, and Kissi-Debrah says: "I think they're going to do songs that were popular with Ella at the time. So there will be Amy Winehouse – Ella was obsessed by Amy."
Kissi-Debrah wants the event to show the government that people worry about clean air: "We think the government wrongly feels this is something people don't care about. When I talk to people, yes, they care about the cost of living, but they also care about the air that they are breathing. I feel like the British public has been hoodwinked into thinking, this is a little green issue some middle-class people are concerned about. No, this is something that impacts all of us."
Much of her focus at the moment is on Ella's law. The clean air (human rights) bill, which has passed in the House of Lords and is due to have its second reading in the Commons later this month, would make clean air a human right and set a date of 2030 for compliance with key pollution standards, 10 years earlier than the government's current date. "Between 2030 and 2040, the premature deaths [caused by dirty air] would equal 300,000," she Kissi-Debrah.
She wrote to the prime minister, Rishi Sunak, in October: "I told him you're going to throw millions at the NHS but the coroner was very clear: unless the government does something about [air pollution], children will continue to die." Sunak has not replied to the letter nor did he accept an invitation from the Green party MP Caroline Lucas to meet Kissi-Debrah to discuss Ella's law.
"They could adopt Ella's law in her memory," Kissi-Debrah says. "That would be a fitting way to remember her, rather than saying: 'We're thinking of the family on that day.' That's nice, but it's not going to change anything, is it? All Mr Sunak has to do is to go into parliament tomorrow and introduce it. The government owes a duty to its citizens. I'm not going to chain myself up and sit in – I think I've suffered enough – I just need them to do the honourable thing."
Even if Ella's law passes in the UK, Kissi-Debrah does not expect to stop there: "There is work to be done across the world. People write to me from India and elsewhere saying: 'Don't forget us.'"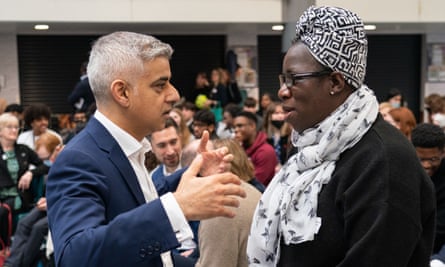 The UK coroner's report called for tougher air pollution limits, more monitoring and public awareness, and better education for medical professionals. The government's response has been poor, says Kissi-Debrah: "Monitoring is really important – you're letting the people know what they're breathing. And when people are repeatedly coming in with asthma attacks, doctors should go, 'What's your postcode?', to check air pollution levels."
Ways to cut air pollution that Kissi-Debrah backs include investing in public transport: "They need to make it cleaner and cheaper." She also says wood-burning in homes in the city is terrible. But she is not a supporter of low-traffic neighbourhoods, where through motor traffic is excluded from some roads: "I think the intention was good. However, the reality is a whole different ballgame." Although academic studies show otherwise, she believes the schemes increase traffic on arterial roads: "It's like the people on the main roads don't matter. We can't have lung apartheid."
Kissi-Debrah still lives in the same house, 30 metres from London's South Circular ring road. "Why should we have to leave our neighbourhood?" she says. "But we have two newborns on our road and I worry about them, and other young people, and that's just one road in London."
Kissi-Debrah remembers Ella as both clever and determined: "In hospital, playing Connect Four with the staff, she said: 'Mum, they will never beat me.'" Kissi-Debrah is equally determined: "It has been a long and truly painful journey. It has cost me everything, but I'd do it all again for the love of Ella. To be in a position that I'll end up saving millions of lives is a privilege."