Pink Floyd feud escalates as founding member confirms he is re-recording iconic 'Dark Side' album on his own
The feud between iconic Pink Floyd members David Gilmour and Roger Waters reached a fever pitch in recent days as Waters slammed Gilmour for being creatively bankrupt and having no real musical "ideas" during the writing of their legendary albums.
Waters' claims came in a recent interview with U.K. outlet "The Telegraph" where he seemed to shoot back at Gilmour's wife's public claims that Waters is "antisemitic" to his "rotten core," a charge that Gilmour endorsed. 
Waters also confirmed during the interview that he was re-recording the entirety of "The Dark Side of The Moon," an album Gilmour, along with keyboardist Richard Wright, contributed significant parts to. The news is the latest in a decades long legal battle for control over Pink's Floyd iconic discography.
ROGER WATERS TELLS RICHARD BRANSON TO 'BACK OFF' OVER VENEZUELA IN BIZARRE DISPUTE OVER BENEFIT CONCERT
Published on Wednesday, "The Telegraph" interview provided Waters an opportunity to address the scathing condemnation that Gilmour's wife, Polly Samson, previously unleashed on the former Pink Floyd singer and bassist. 
Samson tweeted Monday, "Sadly @rogerwaters you are antisemitic to your rotten core. Also a Putin apologist and a lying, thieving, hypocritical, tax-avoiding, lip-synching, misogynistic, sick-with-envy, megalomaniac. Enough of your nonsense."
Gilmour, the guitarist behind classic Pink Floyd guitar solos in "Time" and "Comfortably Numb," retweeted Samson's post with the caption, "Every word demonstrably true." 
In addition to their personal squabbles and fighting over the rights to Pink Floyd, the onslaught seemed to reflect the two artists' competing political views. Gilmour has been an ardent supporter of Ukraine's war effort, crafting music for the war-torn country after the Russian invasion under the "Pink Floyd" moniker. 
Waters on the other hand, has publicly claimed that Ukrainian "extreme nationalists" provoked the invasion. The former Pink Floyd bassist, who currently performs some of the band's discography under his own name, also has a history of antisemitism.
WITH ANTISEMITISM ON THE RISE, AMERICAN JEWISH GROUPS AIM TO TAKE A STAND AGAINST THREATS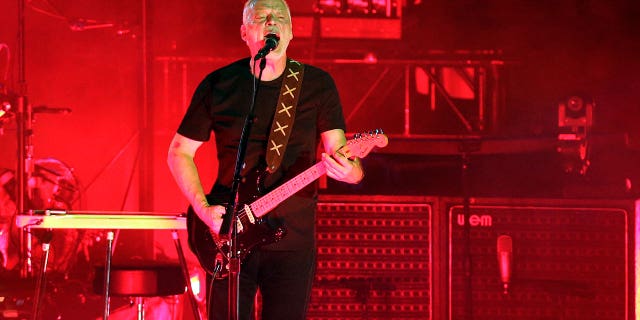 During the interview, Waters denigrated both Gilmour and Wright as artists. He declared, "They can't write songs," and added that "they have no ideas — not a single one between them. They never have had, and that drives them crazy."
The founding member then claimed that the band's most celebrated album, "The Dark Side of The Moon," was his musical brainchild entirely. He stated, "I wrote The Dark Side of the Moon. Let's get rid of all this 'we' crap. Of course we were a band — there were four of us, we all contributed — but it's my project and I wrote it, so, blah."
As for the claims of anti-Jewish bigotry, the singer denied those claims completely: "[There's] not a single millisecond of antisemitism anywhere in my life." 
Waters played snippets of some of the songs from "Dark Side" that he had re-recorded for the outlet, confirming his recent comments to German newspaper "Berliner Zeitung" that he was going to publish a re-recorded version of the album without Gilmour or Wright on it.
He told the German outlet earlier this week, "I'm the only one singing my songs on these new recordings, and there are no rock and roll guitar solos."
CLICK HERE TO GET THE FOX NEWS APP
Waters has since confirmed that he plans on releasing his version of "The Dark Side of The Moon" in May this year. Last year, the disgruntled former Floyd member re-recorded a version of "Comfortably Numb" without Gilmour's vocals or his famous guitar solo. 
Waters' version has been a staple on his ongoing "This Is Not a Drill" tour.