Far-right protesters clash with police at Merseyside hotel housing asylum seekers | Immigration and asylum
Disturbances have broken out in Knowsley near Liverpool after several hundred far-right demonstrators protested against asylum seekers who have been housed in a local hotel by the Home Office.
Merseyside police said three people had been arrested on suspicion of violent disorder.
Eyewitnesses at the Suites hotel said missiles were thrown and far-right supporters set a police van and its equipment on fire.
Anti-fascist demonstrators also attended and one said the far-right protesters had split into three groups and surrounded the smaller number of anti-fascist protesters.
There were reports that the protest was organised by the far-right Patriotic Alternative but the group denied this in social media posts.
Clare Moseley, founder of the charity Care4Calais which supports asylum seekers and who attended the demonstration to support those in the hotel, said: "I don't know if the asylum seekers will be safe. I am deeply shocked and shaken by what I have witnessed in Liverpool tonight.
"I have sympathy for anyone in our county who is concerned for our services or their own future, but terrorising victims of war and torture is unforgivable. Our politicians' rhetoric of hate and division is destroying our society and our British values. My greatest concern is whether the police can keep the people in this hotel safe both tonight and in the future."
Care4Calais tweeted: "We are trapped in the car park, surrounded by hundreds of far-right protesters who have broken through police cordons."
Merseyside police said there had been no reports of any injuries.
In a statement, they said: "Additional officers are in the area to deal with these incidents. We have also implemented a number of road closures on the East Lancs Road and would urge motorists to avoid the area and those in the area to disperse."
Knowsley's Labour MP Sir George Howarth said the demonstration was triggered by an "alleged incident posted on social media" and criticised misinformation about refugees being "feather-bedded" at the hotel.
In a statement, he said: "I have referred an alleged incident posted on social media, which has triggered a demonstration outside the Suites hotel, to Merseyside police and Knowsley council.
"Until the police have investigated the matter, it is too soon to jump to conclusions and the effort on the part of some to inflame the situation is emphatically wrong.
"If an offence has been committed, the police should deal with it appropriately through due process. In addition, the misinformation about refugees being feather-bedded is untrue and intended to paint a picture that does not at all represent the facts.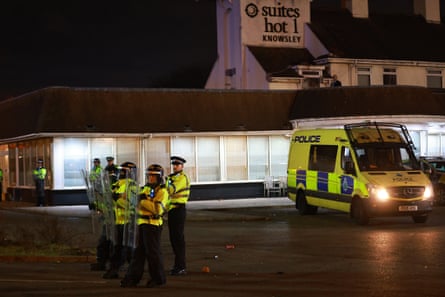 "The people of Knowsley are not bigots and are welcoming to people escaping from some of the most dangerous places in the world in search of a place of safety. Those demonstrating against refugees at this protest tonight do not represent this community. We are not like that and overwhelmingly behave with sympathy and kindness to others regardless of where they come from."
In a tweet, Stand Up To Racism blamed the violence on the government's "scapegoating of refugees".
Merseyside's assistant chief constable, Paul White, said: "We will always respect the right to protest when these are peaceful, but the scenes tonight were completely unacceptable, putting those present, our officers and the wider community in danger.
"Thankfully we have not had any serious injuries reported up to this point, but for officers and police vehicles to be damaged in the course of their duty protecting the public is disgraceful.
"We have arrested some of those suspects and will continue without hesitation to review all and any evidence which comes in, through CCTV, images or other information you may have."
The leader of Knowsley council, Graham Morgan, tweeted: "This kind of senseless violence and destruction will not be tolerated in our community." He said those involved did not represent the people of the area, and were "the polar opposite of the vast majority of our residents, who are tolerant and compassionate".
Merseyside's police and crime commissioner, Emily Spurrell, tweeted: "Deeply shocking and concerning scenes of violence in Knowsley this evening. Utterly unacceptable behaviour, putting officers & public in danger. I am monitoring the situation closely. There is absolutely no excuse for this."